WHO IS SUITABLE 
FOR INDIAN HEAD MASSAGE?
Indian Head Massage is an ancient tradition of Parthian women that is popular among Indian women who want to relax their bodies, nourish their hair to be healthy, shiny, and fragrant, by focusing on massaging the head, neck, shoulders, and forehead. It's also effective for those who experience pain, stiffness in the neck, shoulders, or back, and those who suffer from accumulated stress, insomnia, or headaches can also receive Indian Head Massage to relieve their symptoms.
How to perform an Indian Head Massage.
Using fingertips, apply firm pressure to different muscle points to help release tension, and warm up pure coconut oil to an appropriate temperature. Apply the warm oil onto the scalp during the massage. The warmth from the coconut oil helps relax the muscles, allowing for deeper relaxation, and the properties of the oil nourish the hair and scalp to be healthy, moisturized, and shiny.
The benefits of Indian Head Massage

1. It helps to relax muscles and stimulate blood circulation in the head and neck area.
2. Relieves neck, shoulder, upper back and eye strain.
3. Enhances focus and increases work productivity.
4. Promotes oxygen and nutrient supply to the tissues.
5. Provides deep relaxation, reduces tension and improves sleep quality.
6. Moreover, some massage centers state that Indian Head Massage can help alleviate headaches.
At present, Indian head massage has become increasingly popular as a way to relieve stress and tension. Many massage and spa centers, including Makkha Health and Spa Chiang Mai Spa / Bangkok Spa, offer this ancient practice to their clients. By applying this technique, experts are able to stimulate the pressure points on the neck, shoulders, and scalp, which increases blood flow to the brain, reducing fatigue and promoting a sense of relaxation.
In addition, those who suffer from accumulated stress, lack of sleep, or migraines can also benefit greatly from Indian head massage. At Makkha Health and Spa Chiang Mai Spa / Bangkok Spa, we offer a range of services to cater to your needs. Our highly trained therapists use a combination of techniques to help you feel relaxed and rejuvenated.
Discover the Relaxing Benefits of Indian Head Massage at Makkha Health and Spa Chiang Mai Spa / Bangkok Spa.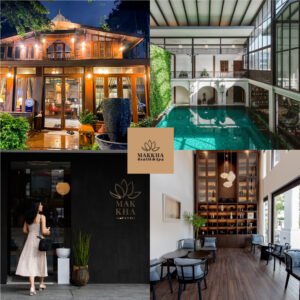 Colonial Gardens +66(0)65-4785358
Ancient House +66(0)98-2399088
Night Bazaar +66(0)93-2419642
Burirattana Hotel +66(0)65-5299783
Marriott Executive Apartments (Sukhumvit 24)   +66(0)93 361 9162