What is Jojoba Oil? Why is it a mixture of spa massage oil?
Many of you may be familiar with "Jojoba Oil" very well. It may be because Jojoba Oil is popular to mix with many brands of cosmetics, face washes or skin creams. Today we have the answer to why you need jojoba oil. Let's get to know jojoba oil and see what benefits it has for skin care.
Jojoba is an extract from the seeds of the jojoba plant. The fruit is a round, brown seed. When cut, a waxy cream can be seen inside. This part is used to extract pure oil. What is interesting is that it is not exactly "oil", but the wax ester (ester is an organic compound formed by the reaction of acid and alcohol).Of all natural extracts, this wax ester is the most similar to human skin oils. Theoretically, applying jojoba oil to the skin can "trick" our skin into thinking it has enough oil. As a result, the skin balances oil production. In short, jojoba oil is non-comedogenic, so you can use it without fear.
Jojoba oil contains the same type of collagen as the skin. It can remove facial oil and blackheads. It can remove make-up on the face and also fade scars. It can nourish the skin and has sunscreen spf = 4. Many skincare products use jojoba oil as the main ingredient, whether it's body cream, body lotion, lip balm, nail balm.
Jojoba oil is unique in that it does not oxidize with oxygen in the air. It has no rancid smell and also nourishes the skin, absorbs water under the skin like creating a natural defense for the skin. Therefore, it is suitable to be used in the production of cosmetics.
Benefits of Jojoba Oil Jojoba Oil and Skin Care
It can reduce the appearance of fine lines and wrinkles.

The scar will fade.

The skin can retain water for longer.

Blackheads will come off and remove impurities from the pores. It is suitable for people with acne and oily skin and balances the pH level of the skin well.

It can perfectly protect the moisture on the hair. Your feeling is non-greasy on the skin and spreads and absorbs well on the skin.

It is non-irritating and suitable for sensitive skin. In the body, people can naturally produce oils similar to jojoba. But factors that cause oil under the skin to decrease depending on age, weather, environment, pollution or even stress also contribute to the reduction of oil under the skin, so we need to find a helper to keep our skin moisturized all the time.
When applied to the skin, it helps to make the skin smoother. Jojoba contains vitamin E that retains moisture to the skin and also reduces wrinkles. Jojoba also effectively reduces skin inflammation, strengthens hair, eliminates dandruff and reduces itchy scalp.
Jojoba oil also contains minerals copper, chromium, iodine, silicon and zinc. In addition, it contains vitamin E and B complex which are all important for skin, hair and nails. Women in Mexico often apply jojoba oil to their hair to prevent dryness.
Wow! The properties of jojoba oil are very beneficial to the skin. Makkha Health and Spa Chiang Mai Spa / Bangkok Spa chooses to use jojoba oil as an ingredient in massage oil for customers to benefit the health of the customer's skin. It is part of a very relaxing oil massage and also a healthy skin. What kind of natural ingredients will there be next? Please follow the next article.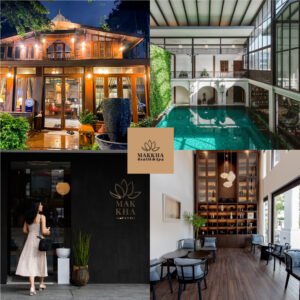 Colonial Gardens +66(0)65-4785358
Ancient House +66(0)98-2399088
Night Bazaar +66(0)93-2419642
Burirattana Hotel +66(0)65-5299783
Marriott Executive Apartments (Sukhumvit 24)   +66(0)93 361 9162