It's unbelievable that delicious food can be a healthy massage oil.

Toggle the table of contents




Macadamia Oil
Macadamia nuts are rich in carbohydrates, dietary fiber, several minerals and vitamins, as well as unsaturated fats and polyphenols. It also contains many useful nutrients. In addition to delicious taste, it also has health benefits. It can maintain health and cure or prevent certain diseases. Macadamia is a plant that has properties to help reduce fat in the blood vessels and prevent blood clots. Macadamia nut pulp is nowadays processed into a wide range of products, such as food, snacks, oils, flours and confectionery ingredients.
Macadamia oil contains antioxidants which can protect cells from various damages and protect cells from toxins in the environment. These flavonoids are converted into antioxidants to repair cell damage and destroy free radicals in the body that cause various diseases or some cancers, such as breast cancer, cervical cancer, lung cancer, prostate cancer and stomach cancer. Additionally, macadamia oil contains palmitoleid acid which is another antioxidant. It can prevent signs of aging for soft and youthful skin.
Benefits of Macadamia Oil for Skin

Macadamia oil moisturizes the skin and prevents signs of aging. It can promote skin youthfulness. It is extracted from macadamia rich in Vitamin E. It is a highly beneficial ingredient for skin care as it penetrates easily into the skin and moisturizes dry skin well.

It also promotes skin cell regeneration, maintains skin hydration and balances oil production on the skin.
Macadamia oil is easily absorbed into the skin and softens the skin. It can also be used as a good body massage because it is non-greasy and gentle on the skin as well as non-irritating. It is suitable for dry and wrinkled skin.
Macadamia oil for massage has many skin benefits. Chiang Mai Spa / Bangkok Spa Makkha Health and Spa has chosen macadamia oil for massage. We also have other natural ingredients, please stay tuned in the next article.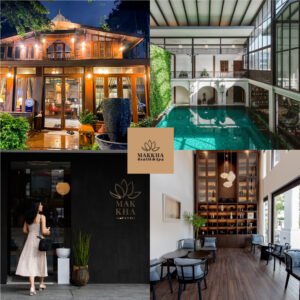 Colonial Gardens +66(0)65-4785358
Ancient House +66(0)98-2399088
Night Bazaar +66(0)93-2419642
Burirattana Hotel +66(0)65-5299783
Marriott Executive Apartments (Sukhumvit 24)   +66(0)93 361 9162