Who hasn't had an oil massage yet, if you want to try it, you must read it!
Let's get to know Thai Balm Massage.
What is Thai Balm Massage?
Thai Balm Massage is a form of aromatherapy massage, which is the use of hands to gently massage different parts of the body together with the use of essential oils from various herbs and flowers, Such as essential oils of thyme, lemongrass, jasmine, lavender. There are also oils extracted from the nut family, such as almonds, macadamia nuts, and jojoba. The oil will make the massage more slippery and may require less force to massage than Thai massage. In addition, Thai Balm Massage stimulates blood circulation which results in a healthier complexion, relaxes muscles, and moods and may even feel refreshed.bangkok spa
The benefits of Thai Balm Massage for body and skin health are as follows.

bangkok spa
1. Stimulate blood circulation
Thai Balm Massage will stimulate better blood circulation as pressure, squeezing and gentle rubbing on the body will create pressure to increase the flow of new blood. It also stimulates the release of lactic acid, an acid produced by the body when there is energy metabolism or food digestion. The circulation of body fluids is improved and blood pressure is balanced.
2. Relieve stress and reduce anxiety and depression.
Thai Balm Massage will stimulate blood circulation to transport nutrients and oxygen to the cells in the body. The body feels more relaxed and also reduces cortisol, the stress hormone, and increases the release of serotonin and dopamine which is a neurotransmitter that improves mood stability It can reduce anxiety and depression.
3. Improve sleep
Thai Balm Massage can stimulate blood circulation, reduce stress hormones and increase mood-stabilizing neurotransmitters. It also has a positive effect on sleep. In addition, oil massage relieves fatigue, reduces pain and aches for more relaxation. It will induce deeper and longer sleep.
4. Alleviate aches and pains
Thai Balm Massage is an exertion of massage and gently rolling over the body to relax muscles and tendons. It will relieve body aches. In addition, Thai Balm Massage promotes better blood circulation. Blood transports nutrients to the different parts of the body properly. It will alleviate the tiredness that occurs.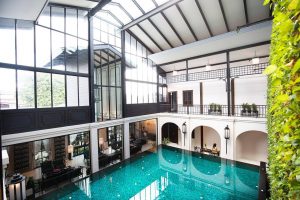 Chiang Mai Spa / Bangkok Spa Makkha Health and Spa's Thai Balm Massage is enriched with ingredients that are most beneficial to the body and skin, such as Almond Oil, Macadamia Oil, Jojoba oil, Avocado oil that blend perfectly. We are ready to nourish your skin to be soft, moisturized, and non-greasy with the captivating scent of rose, jasmine, orange, and citronella.
Next, we will get to knowthe benefits of natural oils. Please wait for the next article.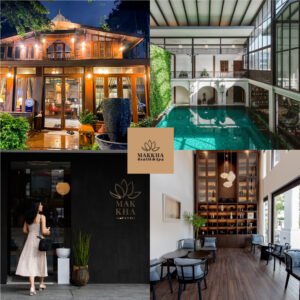 Colonial Gardens +66(0)65-4785358
Ancient House +66(0)98-2399088
Night Bazaar +66(0)93-2419642
Burirattana Hotel +66(0)65-5299783
Marriott Executive Apartments (Sukhumvit 24)   +66(0)93 361 9162