From the previous article we have talked about oil massage,
in this article we are going to talk about the benefits of oil that we massage together.

That's almond oil.

Almonds are nutritious seeds as they contain vitamin E, zinc and potassium. In terms of beauty, there is one form of almonds that can contribute to the care of your skin and hair: almond oil. Almond oil is obtained by compressing raw almonds with minimal heat to extract the oil. This oil is packed with nutritional properties that can heal skin, hair and other health issues.
Almond Oil moisturizes the skin to avoid dryness or irritation. It is an oil that can be absorbed into the skin well, which contains vitamins A, B1, B2, B6 and E.It can prevent and restore dry skin, heal wounds or skin caused by allergies, nourish the skin under the eyes, reduce dark circles under the eyes, stimulate blood circulation.
It is also rich in vitamin E that reduces wrinkles and dark spots. It also makes your skin firm, radiant and younger looking. Apart from this, revitalizes the hair as it is rich in various vitamins that help the hair to become strong and healthy.

Let's look at the benefits of almond oil.
1. Reduce puffiness and dark circles

Almond oil is rich in antioxidants and soothes inflammation. It is ideal for reducing puffiness and dark circles under the eyes. Gently massaging the oil around your eyes can help relieve the puffiness you may see throughout the day.

2. Fade marks and scars

Whether it's hurt by the sun acne scars to stretch marks, vitamin E, zinc and other components In almond oil can help fade scars and improve other signs. of skin damage

3. Make hair strong and silky

Almond oil not only moisturizes your skin but can also be used on your hair. This oil is enriched with vitamin B7 or biotin to promote hair growth while also improving hair follicle condition.

4. Treats dandruff and itchy scalp

While massaging the scalp with almond oil, the nourishing properties of the oil remove dead skin cells and are washed away. Its antibacterial properties also prevent dandruff from forming by reducing the overgrowth of yeast.

5. Improve your overall skin tone.

Have you ever wished for a hydrated glow before the day started? Incorporating almond oil into your skin care routine will gently tone your skin, soothe inflammation and moisturize it. As a result, your skin looks fresh and lively.
We have already seen the incredible benefits of almond oil. Most importantly, it is 100% natural oil packed with many benefits as non-irritating and organic.
To maintain a good skin condition with us for a long time, Chiang Mai Spa / Bangkok Spa Makkha Health and Spa has used almond oil in the Thai Balm Massage oil. Let's follow in the next article.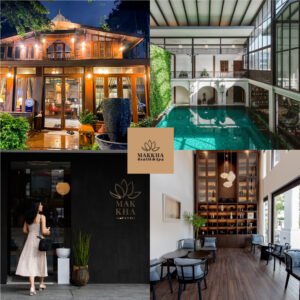 Colonial Gardens +66(0)65-4785358
Ancient House +66(0)98-2399088
Night Bazaar +66(0)93-2419642
Burirattana Hotel +66(0)65-5299783
Marriott Executive Apartments (Sukhumvit 24)   +66(0)93 361 9162